Pamela A. Davol
76 Mildred Avenue
Swansea, MA 02777-1620
pdavol@labbies.com
This web site contains comprehensive information for prospective puppy buyers, new puppy owners, and Labrador enthusiasts including background on the breed, finding a reputable breeder, English vs. American type diversity, canine health and diseases, genetic disorders and how breeders screen for disorders, puppy health warranties, and answers to frequently asked questions about Labs. I hope this answers some of the questions you may have about the Labrador Retriever.



....visitors since 4/20/96.
---
Use the following search engine to quickly find a subject of interest on this site:

Our Current Menu.
What's New--Announcements:|
Please Visit the: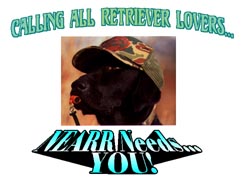 Participants Needed For Canine Reproduction Study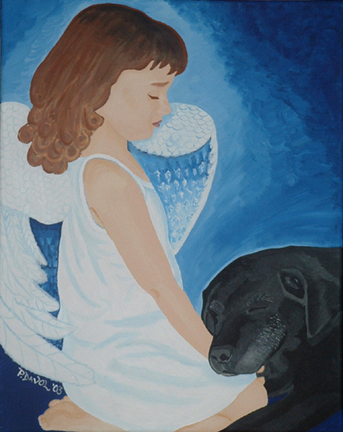 Pam's Art Gallery


Charity Auction Art for 2007
What's New--Articles
Breeder's Notes:
On the Topic of Labradoodles

New Slide Shows are Here


Canine Nutrition
Canine Vaccines: Dispelling the Myths

Dermatologic (Skin) Disorders of the Dog:
A Multipart Series
Atopy (Environmental Allergies Affecting the Skin)
Allergic and Non-Allergic Food Reactions Causing Skin Diseases
Allergic Drug Reactions Affecting the Skin
Secondary Skin Reactions Resulting from Allergies
About Wing-N-Wave:
Letter From The Breeder
Litter Announcements
Our Breeding Program
Wing-N-Wave Then and Now: The Progressive Generations
Agreements and Contracts
The Wing-N-Wave Health Warranty
Wing-N-Wave Vaccine Schedule
Photo Gallery--updated 3/27/99
Interview With The Breeder
Frequently Asked Questions
Purchasing a Labrador:
Is A Labrador Right For You?
The History
Choosing A Labrador
Shipping Dogs and Puppies: Turning Nightmare To Happy Ending
The Importance of Not Patronizing Pet Specialty Stores that Sell Puppies

Training Your Labrador
www.superdog.com
(an award winning site to address all your training questions and concerns)
Canine Health and Genetics Articles:
Anthrax: What Dog Owners Want to Know
Birthing a Litter
Canine Reproduction (A 5-Part Series)
Cancer in the Canine (Parts 1,2,3)
Canine First-Aid
Canine Anaphylaxis: A Health Advisory To Dog Owners
Canine Autoimmune Hemolytic Anemia
Vaccines, Infectious Diseases, and the Canine Immune System
Countdown to Lyme Season: What Every Dog Owner Should Know About Lyme Disease
Canine Leptospirosis: Current Issues on Infection and Vaccination
Canine Epilepsy
Canine Stress Syndrome
Growing Pains: Growth-Associated Bone Disorders in the Dog
Canine Hip Dysplasia: Perspectives of Breeding
What Lab Owners Should Know About The Anti-Inflammatory Drug "Rimadyl"
Canine Nutrition: A Practical Approach to Feeding Dogs and Puppies
Eye Disorders
Puppy Eye Clearances: Are they really necessary?
Skeletal Muscle Myopathy: An Inherited Disorder in the Labrador Retriever
Tricuspid Valve Dysplasia in the Labrador Retriever
To Spay or Neuter?
B/b, E/e, and Beyond: A Detailed Examination of Coat Color Genetics in the Labrador Retriever-updated 1/29/01
Coat Color Inheritance in the Lab
Coat Color Controversy: Do Silver Labs Exist?--revised & updated for 2001

Just For Fun!
The Friends of Wing-N-Wave Page
Caleb's Corner("Thumbs and 6 paws-up"--Pam & The Labbies)
Visit the TriState Search and Rescue (Working Labs and their friends in action!)
MORGAN: The Comic Strip
Our Favorite Links--New Cool "Sights" added 5/19/00
Pet Artists
Tail-Waggers Gourmet Pet Bakery & Gifts...(Yum!)
Canine Legislature:
Canine Legislation

Member of the HTML Writers Guild.

Best If Viewed With Internet Explorer



Updated 9/3/05
Copyright Ó 1992-2004. Pamela A. Davol. All rights reserved. Copyright & Disclaimer
Free JavaScripts provided
by The JavaScript Source

"O thus be it ever when free-men shall stand
Between their lov'd home and the war's desolation;
Blest with vict'ry and peace, may the heav'n-rescued land
Praise the Pow'r that hath made and preserv'd us a nation!
Then conquer we must, when our cause it is just,
And this be our motto: "In God is our trust!"
And the star-spangled banner in triumph shall wave
O'er the land of the free and the home of the brave!"
--4th Stanza of the American National Anthem
Dedicated to the memory of all Americans--past, present, future--who have died or will die in the name of
American Freedom...

In support of our American Troops in Iraq